This large church is part of the Exeter Circuit of Methodist Churches. Methodists have been worshipping in the Sidwell Street area since the 1830's, but the story of the present church began in the 1890's.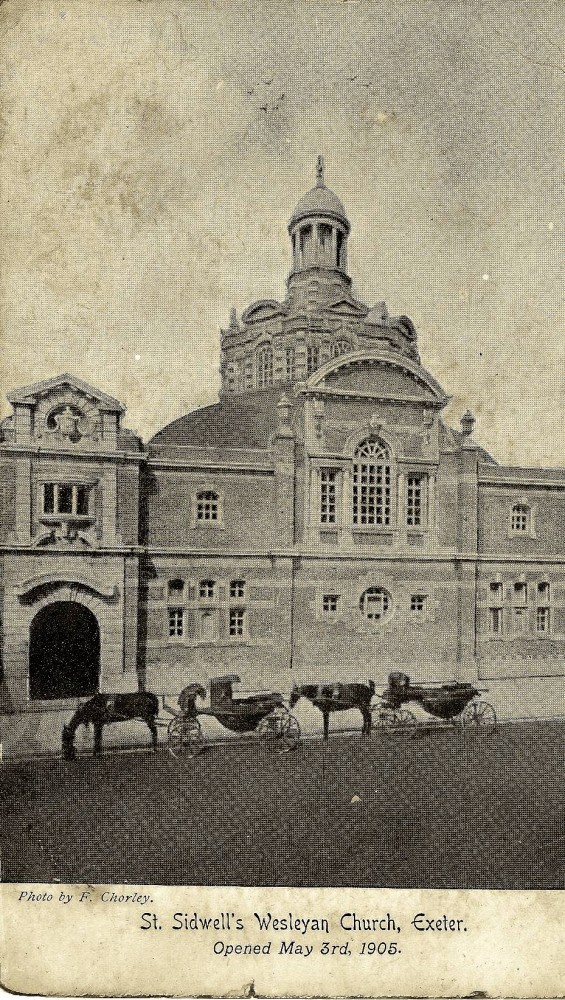 The Need for a Church Building
A hall as a combined Chapel and Sunday School was built in 1896 to serve a growing congregation. It is still in regular use today for both Sunday School and a wide variety of weekday activities.
The New Church Design
As the community began to thrive, the need arose for a separate church building and the trustees engaged a local architect, Fredrick Commins to draw up the plans. His original design was similar to the present day building, but he envisaged a traditional construction of brick, timber and slate.
His plan was on the auditory system, to some extent popular since Wren's time and favoured by John Wesley, the founder of Methodism. This placed the pulpit on one side of an octagonal interior so that the preacher could easily be seen and heard by those sitting downstairs and in the gallery.
The Architect
Among those invited to tender was a French engineer, Paul Cottancin, who had patented a system of reinforced brickwork and concrete. He had not yet built in Britain, but his tender being £1000 less than his competitors was accepted for its low building costs - the final costs being £9600.
The Building Work
Work began in 1902 and the church opened for worship on May 3rd 1905. During this time, Cottancin went bankrupt and it took some time for the roof to be completed. It must have caused some interest in Exeter, as it is understood that when the pantomime was being performed in the Theatre Royal, Sleeping Beauty awoke to enquire if the church roof was now in place! Subsequently no further churches were built using this method of construction.